Saucy Suitors (Alpha 0.11.1)
January 2019 Devlog - Happy Birthday, Sho!
---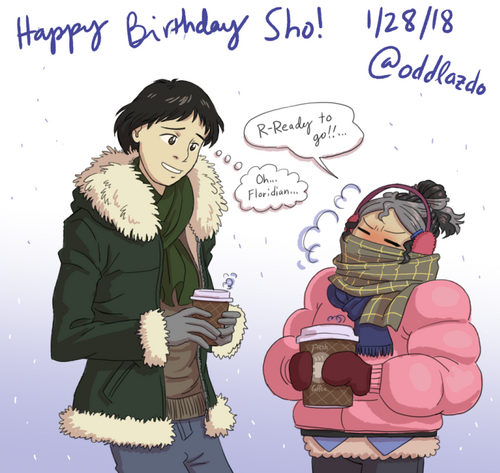 Hello, my lonely sauciers! Odd Lazdo here with an update on a special day: January 28th is the birthday of our beloved soybeanpole, Kikkohito Sho! 😚Saucy Suitors takes place in March of 2018, so he'll always been canonically 31 years old. But he would otherwise be 32 years old as of today! Happy birthday, Sho!
Now for an update on the progress of Sho's route! Here's the status of everything so far:
Script: 99% done
First round of editing: 100% done
Talksprites: 90% done
Backgrounds: 50% done
Special CGs/additional art assets: 30% done
Programming: 25% done
Selecting music: 50% done
Beta testing/second round of editing: 0% done
It might look like there's a lot left to do in the next month - I still intend to release Sho's route before the end of February - but the most important thing here is that the art assets are close to being finished. Drawing everything I need for the VN is hands-down the most time consuming aspect of making this game. Once those are done, it'll only take me a few days to put everything together in Ren'Py and start testing and proofreading (which itself won't take long).

And that's it! This will be the last update before Sho's route goes live next month. As always, thank you to everyone for playing and for your support! Click here for links of where you can follow me & Saucy Suitors on various social media sites. See you next month!
Get Saucy Suitors (Alpha 0.11.1)